Dates: 15.10.-01.11.2020
If you have ever dreamed of a holiday, where you are kiting every day in a warm weather, then you must come to Brazil.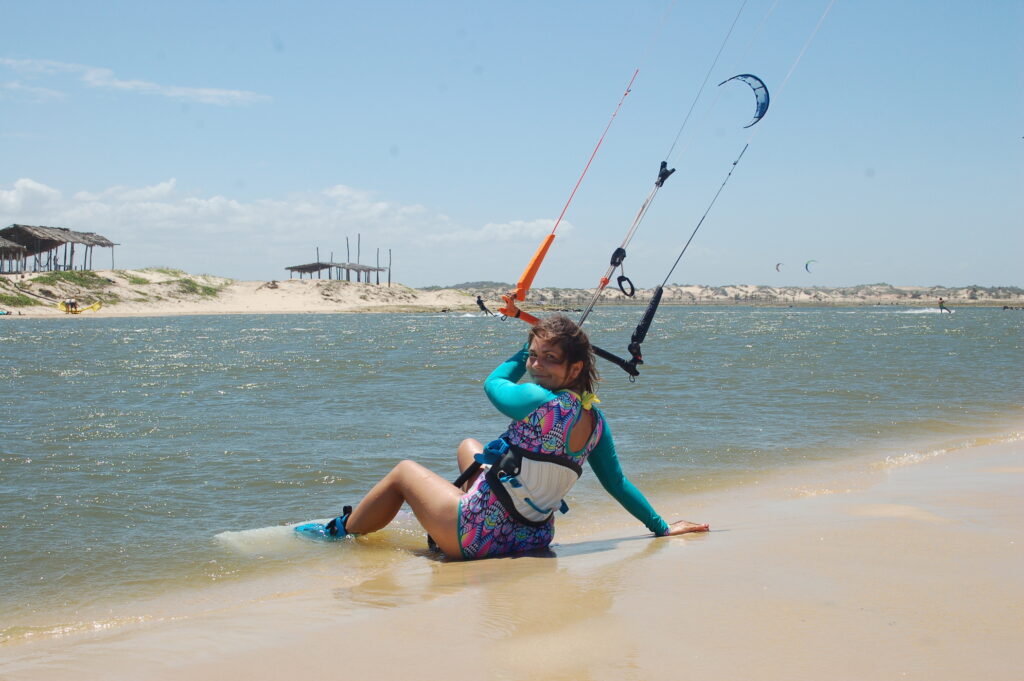 Riding conditions
We will be kiting in the North of Brazil, in Atlantic Ocean.
The wind direction is mainly South-East or East and the avarage wind speed in November is around 8-10 m/s (16-20 knots). The wind is blowing 98% of the time and we will have 9 of sunlight hours a day.
The wind is the strongest at midday.
Ocean is salty and the waves are smaller during the low tide, so it's suitable also for beginners and for those, who are looking for some wave-riding conditions. We have 2 lagoons close by – Tabuba and Cauipe.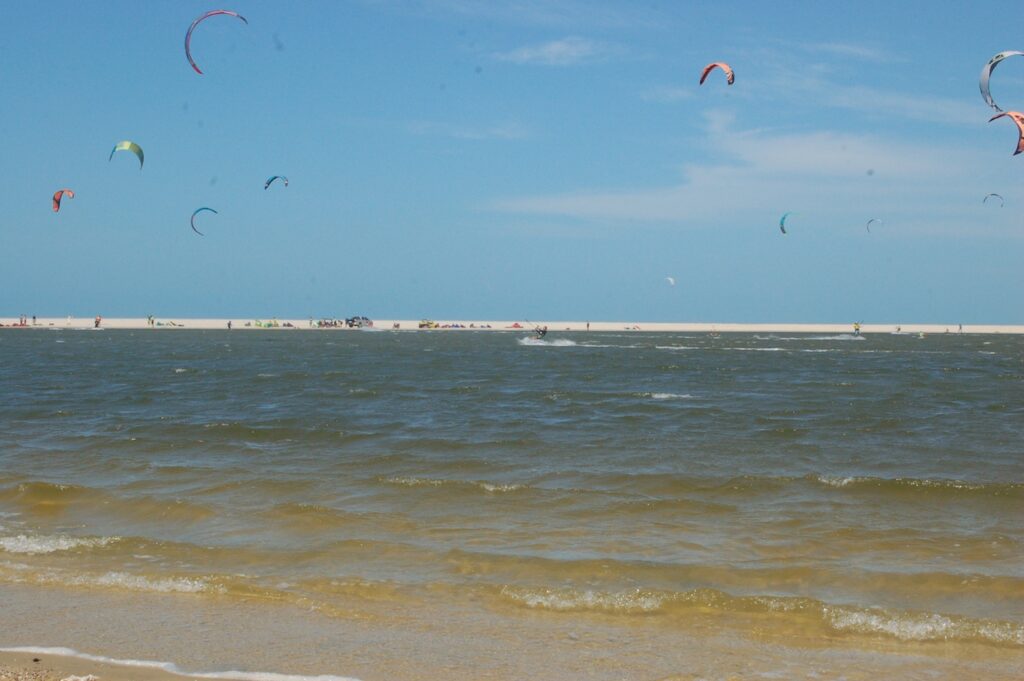 The most used kite sizes are 9 m2 for men and 7m2 for women. There might be a chance where you will need smaller or bigger kite. So we recommend to bring all sizes from 6-12 m2, if you want to be in the water every day.
The water temperature is 27 degrees, so you won't need a wetsuit. We recommend to wear a lycra and 50 SPF sunscreen.
The avarage air temperature is around 30 degrees.
Cumbuco is tide dependent spot, where the tide changes twice per day 2-4 meters.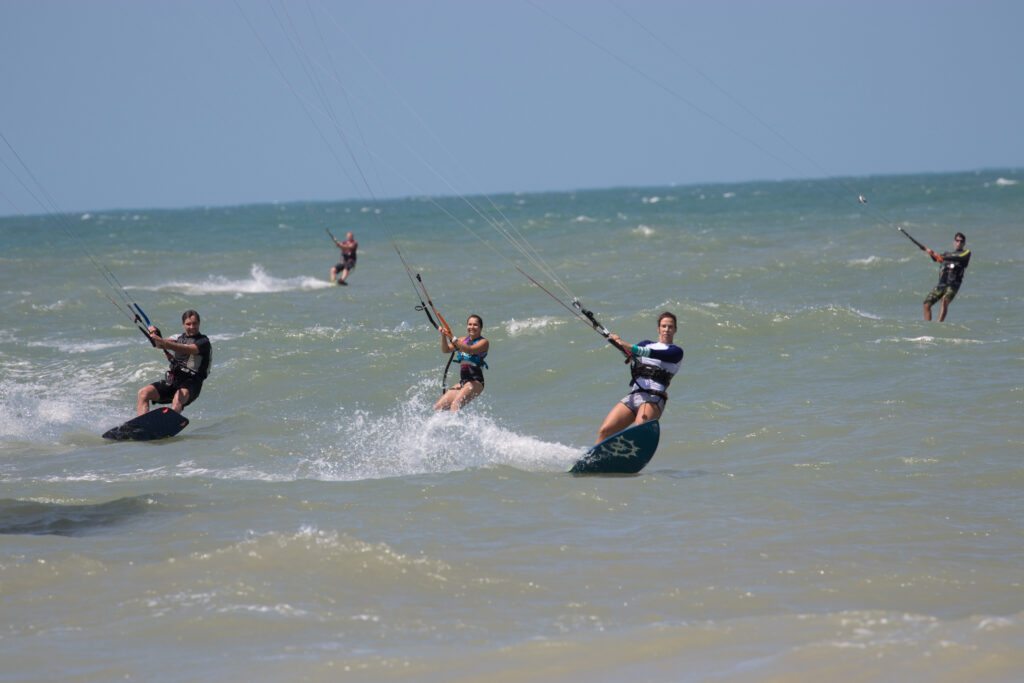 Ocean spot is just 100 m away from our pousada.
We will also go to the lagoons by bus or by beach buggy – advanced riders can make downwinders to/from the lagoon.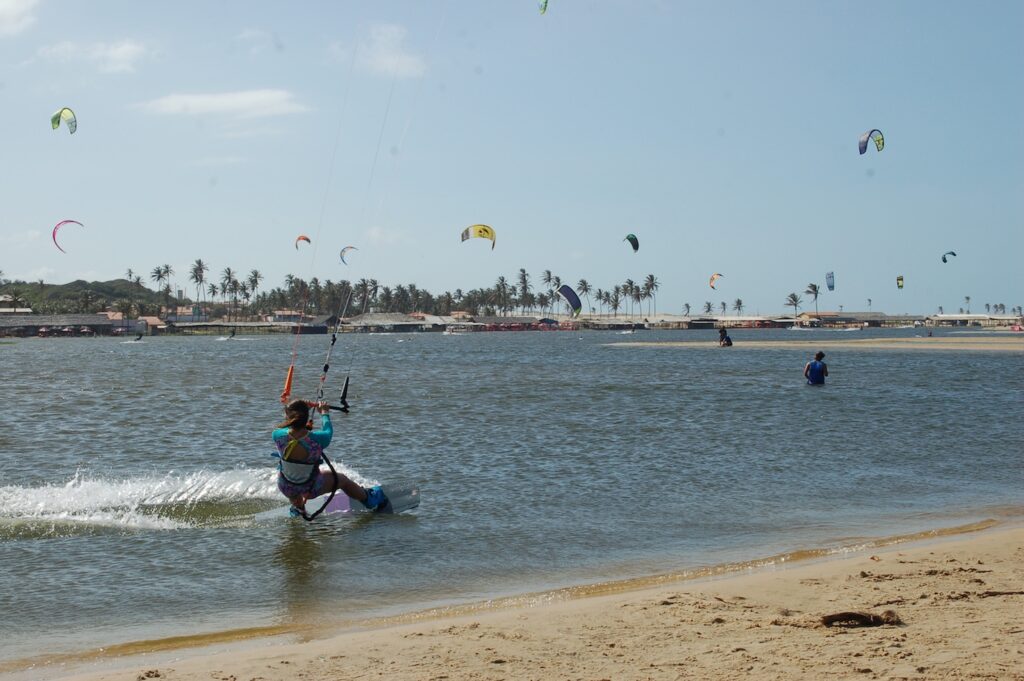 The lagoons are not tide dependent and it's possible to kite all day. When we kite in the ocean in Cumbuco, we need to take care during the low tide, because of some sharp rocks. During the high tide, the waves are big and it will be more challenging to enter the water.
For beginners, who need to walk upwind with the kite, it is easier to practise in the lagoons, where the water is flat and mostly shallow.
Taiba lagoon is around 50 km from us. We will definitely visit all the lagoons, as they are perfect for freestylers and beginners, wave riders can ride just next to the lagoon in the ocean. We will get to the lagoons with the beach buggies, which will be already a great adventure.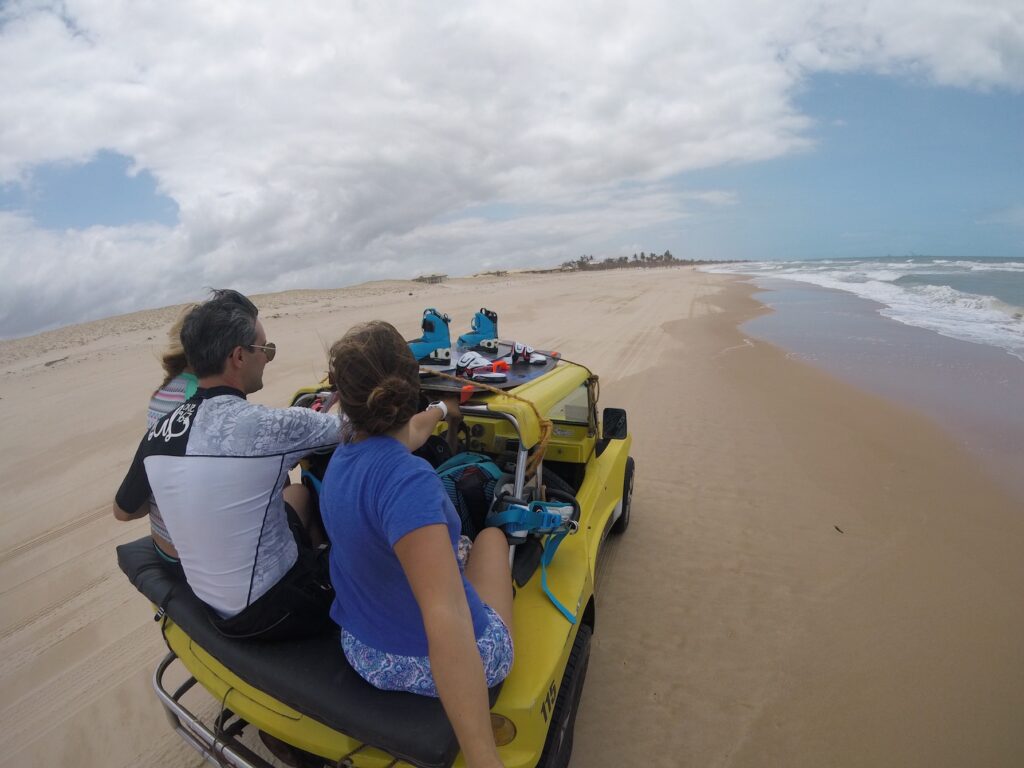 Visa
No visa required for EU citizens up to 3 months stay. If you are non EU citizen, check with the embassy.
Vaccines
Are not nessasary. If travelling to the South, yellow feaver vaccine is recommended and there is a risk of Dengue feaver from mosquitos, which doesn't have a vaccine, but can be avoided by using the mosquito repellent.
Accommodation
We will stay in the rooms shared with 2-4 persons in a safe and cosy Pousada, which is located 100 meters from our spot and kite school. The town is 200 meters away with local and European restaurants and supermarkets.
Pousada has a pool, sun beds, chill out area and hammocks. We will store the gear in the pousada, each room has a locker for it. Breakfast is included in the price and the rooms are cleaned daily with fresh bedsheets and towels.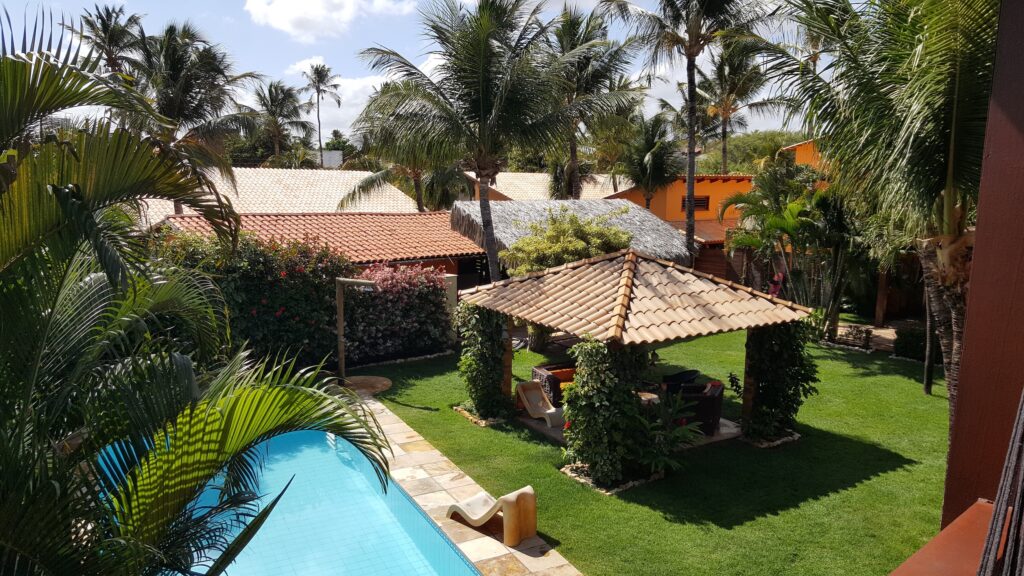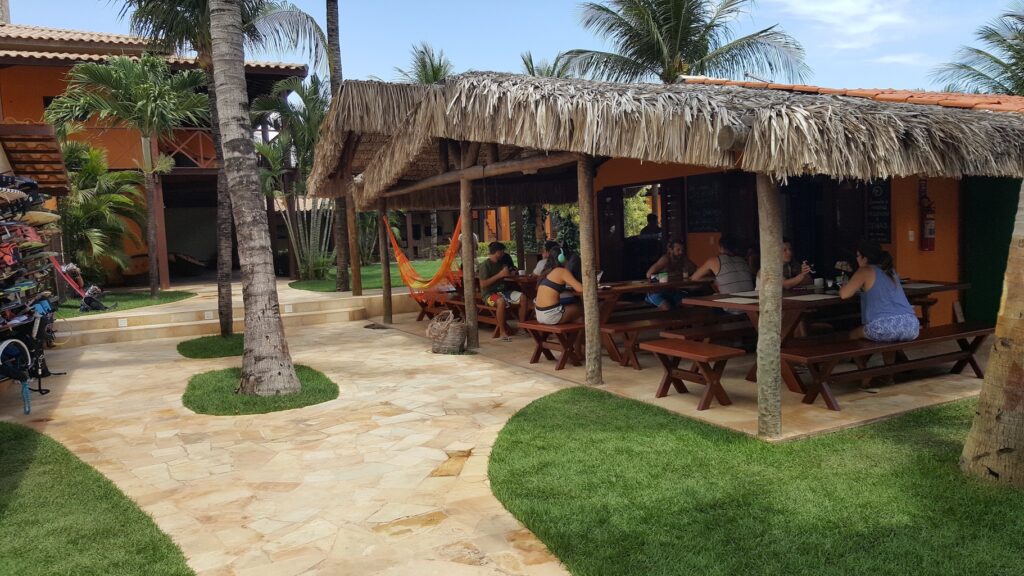 Daily schedule
8:00-9:30 Breakfast (included in the price)
9:30-12:30 Kitesurfing
12:30-14:00 Lunch
14:00-19:30 Kitesurf and chill or other activities
19:30-21:00 Dinner

If its not windy or if you don't surf
It's possible also to do wave surfing, horseback riding, go to a gym or to amazing sand dunes.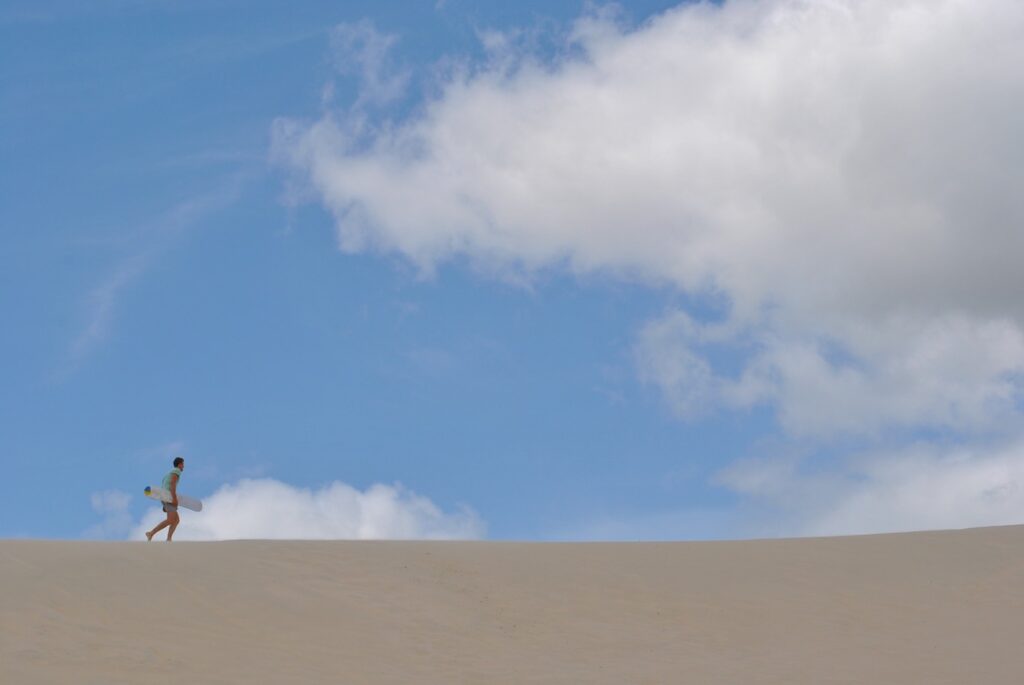 In Fortaleza, there is a huge waterpark.
If you want to party, you must visit Jericoacoara, which is popular and cute hippie village 300 kilometers from Cumbuco. Jericoacoara is well-known for it's strong wind, nice swell, sand streets, parties, live music and beach restaurants. You can enjoy beautiful sunsets from the sand dunes, as it's the only place in Brazil, where the sun sets to the water.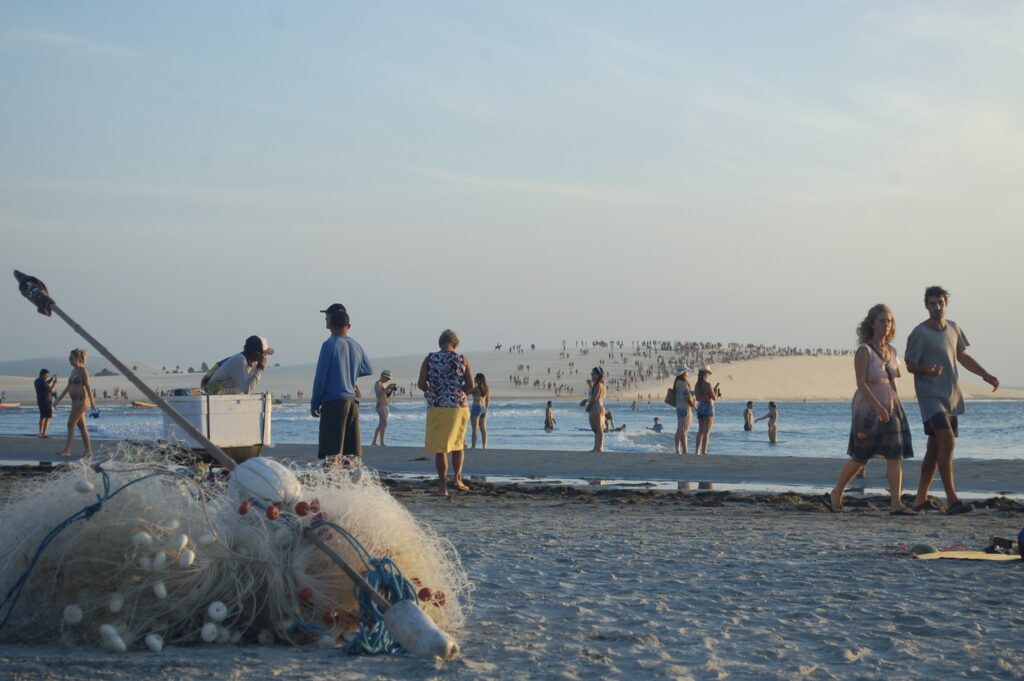 Clothing
As mentioned above, the weather is warm, but you should take warmer clothes for the afternoon and sunset.
Transfers
The distance between the airport and Cumbuco is 33 kilometers. Transfers from the airport and back are included in the price.
Food and prices
If you eat outside, the prices are similar to Estonia, one meal will cost you 5-15 € + drinks.
The fruits and veggies are cheap and good and local street food is starting from two euros. And you will probably love the Brazilian superfood – acai bowl.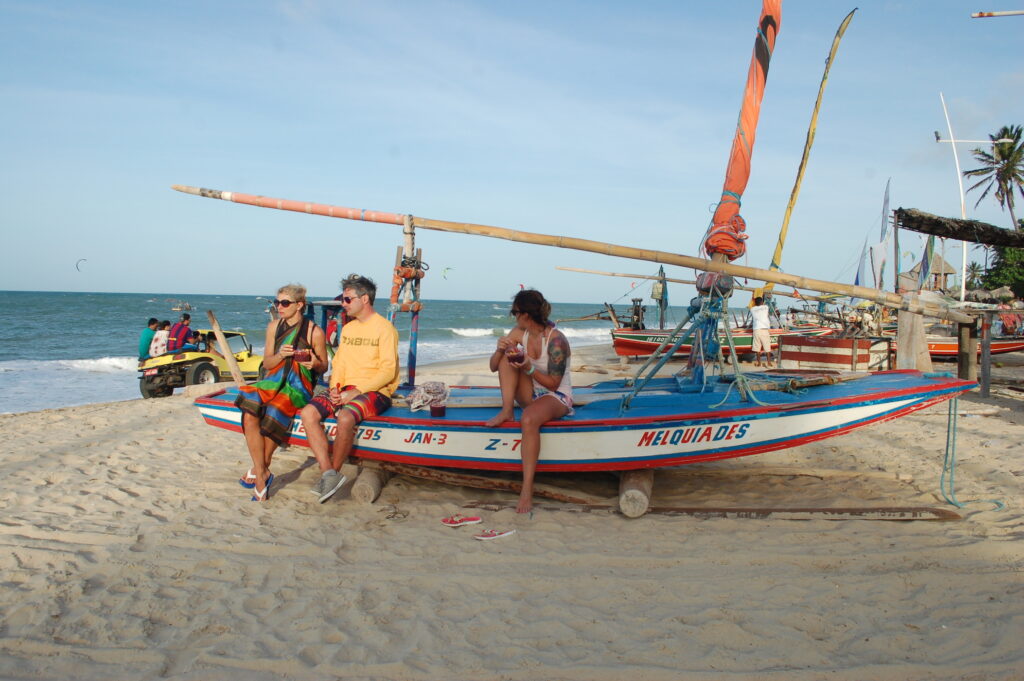 Exchange
We recommend to change money partly at home. And take out some money from ATM at Fortaleza airport or in Cumbuco, but it's not always working –sometimes its not working with VISA card.
Brazil has Brasilian Real (BRL), the exchange rate is chaning a lot 1 eur =4,5 BRL.
Price 
ONE WEEK
450€* (until 14.08.2020)
520€* (from 15.08.2020)
TWO WEEKS
900 €* (until 14.08.2020)
970 €* (from15.08.2020)
18 DAYS
1150 €* (until 14.08.2020),
1220 € (from 15.08.2020)
*If you have been participating in our previous camps within 1 year, you will get -15% discount.
Price includes:
Accommodation in shared room
Breakfast
Transfer from the airport and back
Self rescue group lesson in the first day
Spot guiding
IKO Level 3 instructor availability
Price does not include:
Flight tickets and luggage fees
Lessons
Equipment rental
Food
Transfers inside Cumbuco and so on
Flight tickets
There are no direct flights to Cumbuco or Brazil, so the easiest option is to fly to the closest city Fortaleza with a stopover in Europe.
Right now 19.10.-01.11.2020 the price is 882 euros (it can change), kitesurf luggage can be with extra charge.
Lessons and equipment rental
Equipment rental
Surftown is using high quality gear from Liquid Force Kites. Our main kite model is Liquid Force NV, which is perfect kite for
beginners, but also for advanced riders. Surftown has kites from size 5m2 to 17,5 m2. If you don't have all the sizes, you can rent the missing size. You can find the pricelist here.
NB! Please let us know BEFORE the trip, if you need to rent a kite.
Lessons
We are always welcoming beginners in our camps, even if you never held the kite before. Camps are perfect for learning
kitesurfing as the temperature is warmer, there is more wind and we always choose beginner friendly spots.
Beginner course includes 3 sessions and each session is 2 or 3 hours (2 hours with 1 person and 3 hours with 2 persons). One session is 110 euros/per person.
The full beginner course costs 3×110 eur (330 eur). The price for private lesson is 70 euros. In private lesson, you can learn anything you want – waterstart or riding, going upwind, turns, jibes, toeside riding, jumps and unhooked wakestyle tricks. Read more about the lessons.
NB! Book your lessons, when you are booking the camp, so we will have the right gear for you!
Bookings and info: info@surftown.ee