When:
2020-10-15T00:00:00+03:00
2020-11-02T00:00:00+02:00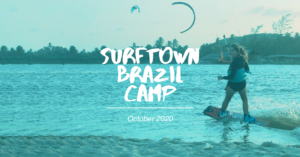 Read more about the camp from our TRAVEL MEMO. If you have ever dreamed of a holiday, where you are kiting every day in a warm weather, then you must come to Brazil. We will be kiting in the North of Brazil, in Atlantic Ocean. 
The wind direction is mainly South-East or East and the avarage wind speed in November is around 8-10 m/s (16-20 knots). The wind is blowing 98% of the time and we will have 9 of sunlight hours a day. The wind is the strongest at midday.
Ocean is salty and the waves are smaller during the low tide, so it's suitable also for beginners and for those, who are looking for some wave-riding conditions. We have 2 lagoons close by – Tabuba and Cauipe.
We choose beginner friendly spots, if you are new to kitesurfing, we are welcoming you in the camp. Book your course now, so we can plan it in advance and bring the gear for you.
Camp price: ONE WEEK
450€* (until 14.08.2020)
520€* (from 15.08.2020)
TWO WEEKS
900 €* (until 14.08.2020)
970 €* (from15.08.2020)
18 DAYS
1150 €* (until 14.08.2020),
1220 €* (from 15.08.2020)
*If you have been participating in our previous camps within 1 year, you will get -15% discount.