When:
@ –
2023-02-04T09:30:00+02:00
2023-02-04T15:00:00+02:00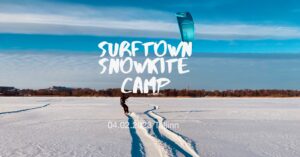 Date: 4.02.2023
Location: Harku lake or fields close to Tallinn, depending on the weather conditions.
Wanna learn how to surf on snow? Snowkite is perfect way to enjoy kitesurfing, powder snow and flat surfaces. Camp is perfect for beginners and also for intermediate riders, who have previous experience in the water. Learning on snow is much faster than in the water, You will be able to ride just with one day.
Camp Schedule:
Saturday 4.02.2023
9:30 Gathering, registration, preparation
10:00-10:15 Theory
10.15-12:00  I practical part – setting up and flying the kite
12.00-12.30 Lunch
12:30-14.45 II practical part – flying the kite, riding
14.45-15:00 pack down and diplomas
The schedule might change because of the weather conditions! If there is no wind or snow, we will offer you another date for the camp
Price: 135€*
With The Friend 125€*
*Price with your own snowboard/ski equipment. If you don't have your own equipment, the rental price is added 15€
Price includes: kitesurf set (harness, helmet, kite, bar), snowboard and boots, tea and coffee, lunch, good company and videos/photos.
More info and bookings: info@surftown.ee or +37256691870
Next snowkite camps:
February 25.02.2023
March 4.03.2023