When:
5. jaan. 2019 @ 06:57 – 19. jaan. 2019 @ 07:57
2019-01-05T06:57:00+02:00
2019-01-19T07:57:00+02:00
Where:
Srilankakite
Sri Lanka
Sethawadiya, Kalpitiya
Sri Lanka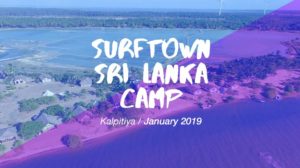 SRI LANKA CAMP (FULL BOARD)
Sri Lanka, Kalpitiya is one of the top kiteboarding destinations in the world, where we have two wind seasons, one is from May to October and the second one from November until March. The riding conditions are perfect and comparable with Brasil – butterflat water and wind guarantee.
Sri Lanka is the closest tropical destination, there are plenty of flights from big and affordable flight operators like Turkish Airlines and Qatar Airways.
The wind shifts to north east in Winter, up to 20 knots. The wind is lighter in Winter season, which makes it perfect for beginners and intermediate riders. The lagoon is huge and it's not tide dependant, you will always find enough space. We recommend to take bigger kite sizes from 12m2 to 17,5m2 and one smaller kite from 9-10.5m2, depending on your bodyweight.
In January air and water temperature is around 28 degrees, so no wetsuit needed.
We will stay in Srilankakite bungalos, where 3 meals per day and storage is included in the price.
Sounds interesting?
Check out all the info from our travel memo: https://www.dropbox.com/s/rfehkg5d5inwcaf/Travelmemo%20Sri%20Lanka%20Camp%20EN.pdf?dl=0
If you have any questions, contact us info@surftown.ee or +372 56691870