When:
2. nov. 2019 @ 08:27 – 9. nov. 2019 @ 09:27
2019-11-02T08:27:00+02:00
2019-11-09T09:27:00+02:00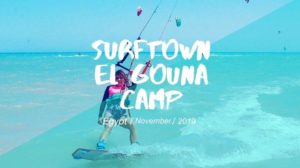 Surftown El Gouna Camp
2-9 November 2019
We will be kiting in turquoise blue Red Sea. The common wind direction is North West and North and the avarage wind speed in November is 7-10 m/s – sideshore/ side on shore. The
avarage water temperatuure is around 23 degrees, but in November, you still need a wetsuit cause of the windchill. It can be 5/3 or 4/3 mm wetsuit. Make sure you bring a waterproof sunscreen 50 SPF, the sun is really strong there. The avarage air temperatuure is around 24 degrees, but bring also warmer clothes too, as it might get colder in the afternoon and with the strong wind.
We will storage the equipment in Red Sea Zone station. Beside the storage they offer compressor, showers, toilets, sunbeds, bar, snorkeling and kids play area.
With no wind, you can visit the biggest cable park in North-Africa – Sliders, go snorkeling or diving, go on SUP tour, play golf etc.
If you don't kite yet, El Gouna is a perfect spot to learn. You can learn with IKO instructors.
The price for beginner course (more info www.surftown.ee) is 330 eur (6-9 h/3 days)
Private lesson 69 eur/h
Flight tickets directly from Tallinn are 379 euros right now, kitesurf luggage could be with extra cost.
Early bird price 450 eur (before 1.09.2019)
Normal price 530 eur
If you have done at least one kite trip with us in last one year, you recieve -15% discount.
Find more info and the prices from our travel memo from here.
Bookings and info: info@surftown.ee