When:
3. mai 2019 @ 10:00 – 12. mai 2019 @ 13:30
2019-05-03T10:00:00+03:00
2019-05-12T13:30:00+03:00
Contact:
Surftown Surfiklubi
+37256691870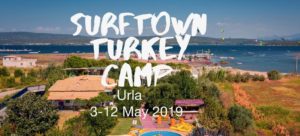 Kitesurf Camp in Turkey, Urla
Turkey is fast becoming one of the top kiteboarding destinations, therefore there were Freestyle World Cup events held in last years. This time our choice is Urla, South from Istanbul, 45 minutes drive from Izmir Airport.
In front of Urla Surf House kiteschool, there is huge lagoon with flat and shallow water, which is why the spot is really famous between professional kiteboarders. In front of the school, you can find flat freeride area, downwind safe area for lessons and beginners and upwind kitepark with sliders and kickers. Just next to it, there is huge bay perfect for foiling and across the lagoon you will find "Secret Spot", famous for its beautiful turquoise and flat water.
The avarage temperature in May is around 24 degrees during the day and 17 degrees during the night. The water temperature in May is around 19 degrees, which means take your long wetsuit with.
The avarage wind in May is between 7-8 m/s, but it can blow over 10 m/s and there will be days with less wind, so we recommend to take all the kite sizes.
We will storage the gear in Urla Surf House school, which is on the beach.
We will stay and Urla Surf House, which is located just next to the beach, the rooms are for 2-3 persons with breakfast included in the price.
There is lots to do in Urla and around it, in case the wind is not there. In Urla Surf House, there is cafe and restaurant, pool, miniramp for skateboarding, SUP, table tennis, slackline, Yoga classes etc.
Also around Urla, there are lot of historical places to see. You can also go to play golf, windsurf, scuba dive, rent a bycicle, do some horseback riding.
If you never tried kiteboarding before, it's perfect spot to start. We also offer kiteboarding lessons for beginners and choose the spots carefully, which are beginner friendly. There are many who started kiting in our camps!
Find more info about lessons from HERE
If you don't have your own gear, you can rent from us. Please check our pricelist for more information.
Price:
The price of the camp is 499 euros*
*If you have been in our camps during one year, we offer -15% discount
Price includes:
• Accommodation in 2-3 person room
• Half board – breakfast, 4 dinners and 1 BBQ night
• Equipment Storage
• Transfers from the airport and back
• Self Rescue group course on the first day
• IKO instructor availability and guiding
The price does not include:
• Flights
• Lessons
• Other activities like Yoga, SUP, daytrips etc
Sounds interesting? Download the travelmemo
For more info and bookings, contact us info@surftown.ee or +37256691870