When:
4. jaan. 2020 @ 16:00 – 18. jaan. 2020 @ 12:00
2020-01-04T16:00:00+02:00
2020-01-18T12:00:00+02:00
Contact:
Surftown Surfiklubi
56691870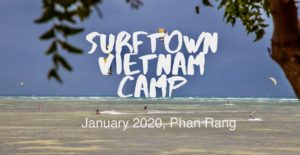 Vietnam has been kitesurfing mecca in Asia for years. Most of us know Mui Ne, but down in the South there is huge lagoon located 20 km from Phan Rang. Phan Rang is becoming now one of the top kiteboarding destinations in Asia. Phan Rang is one hour away from Cam Ranh International Airport.
The winter wind season in Phan Rang is from November until April and its windy every day. The avarage wind speed in the season is 10 m/s (20 knots), but on some days, it can blow up to 20 m/s (40 knots). There are two directions, one blowing straight onshore and the other side onshore. As the wind quality is very good, even if it's strong, it's not gusty, so it makes the spot perfect for beginners and for lessons – strong wind can be advantage, as there is always consistant pull. There are also 4 kite schools located next to the lagoon. The lagoon is protected with the reef which is 700 meters from the shore and that makes the water super flat and shallow. The spot is perfect for all level of riders – beginners, advanced riders and freestylers. The lagoon is tide dependent and with the low tide the water can get very shallow, but you are still able to kite behind the reef. Behind the reef there are very clean waves with the height 1-4 meters, so it makes the spot perfect also for waveriders.
From kite sizes, you will be using small sizes from 5-9m2.
For more information and prices check our travelmemo:
https://www.dropbox.com/s/jh298m4vbdneytx/Surftown%20Vietnam%20Camp%20travelmemo%20ENG.pdf?dl=0
If you have questions or for booking: info@surftown.ee