Our courses are based on IKO teaching programs and internationally approved. The courses are given by IKO licensed instructors.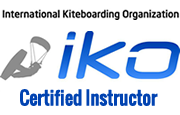 We are focused on high quality lessons, therefore the courses are in small groups for more intense learning process.
We are also offering high quality group lessons and team building events for the companies.
We use in our courses high quality equipment from Airush and world leading wetsuit brand O'neill. We always make sure our gear is in best condition and replace it in every 2-3 months. You can be sure that you will be thought with the modern and safest equipment on the market.
Why do I need an IKO course? 
IKO is the world's leading kiteboarding organization specializing in kiteboard education, promoting safe practices and enhancing the highest standards for the industry. IKO strives to reach the pure excellence in the teaching experience by finding the perfect balance of fun and safety while keeping each kiteboarder's individuality in mind. 
We highly recommend to pass your course with IKO licensed instructor as it will guarantee the safe and effective learning process.
Surftown does not recommend you to take the course with non-licensed instructor. Good rider is not always a good teacher, as he is lacking of the knowledge, how to teach safely and effectively.
Our aim is not to put you on the board as fast as possible but rather teach you, how to do it safe, step by step. The goal of the course is to make you an independent kiteboarder, who keeps safety in mind.
After passing the course, you will get IKO certification with your level, which allows you to rent the gear all over the world.