When:
2023-04-16T13:00:00+03:00
2023-04-16T16:00:00+03:00
Where:
Surftown
Paldiski maantee 80e
10618 Tallinn
Eesti

Contact:
Surftown Surfschool
+372 56691870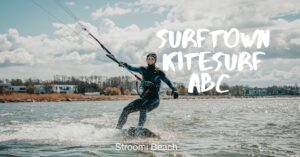 Kitesurf ABC workshop dates:
16.04.2023
7.05.2023
28.05.2023
11.06.2023
9.07.2023
30.07.2023
20.08.2023
3.09.2023
The workshops are taking place at Surftown surf school, Stroomi beach, 13:00-16:00.
ABC workshop is great way to get started with kitesurfing. You will learn the theory and get to fly the kite for the first time.
You will learn how to understand the wind speed and the direction, what is the wind window and how to choose the suitable spot. We will also fly the trainer kite and learn how to do the set up aand use the safety systems. Later on, it is possible to continue with private or semiprivate course.
If you want to organise Kitesurf ABC course for/ with your friends, team mates or collagues, book the date by dropping us an e-mail: info@surftown.ee
Schedule:
13:00 Theory – wind speed and direction, SEA definition, how to choose the spot, wind window.
14:00-16:00 Trainer kite flying, kite set up and safety systems.
Workshop price: 30€
Sign up here: https://forms.gle/gZKr6E4BL3niQn7S9
After signing up, we will send You an invoice by e-mail, which should be paid at least 3 days prior to the workshop.
You can also purchase the ticket from Stebby, please fill out the registration form and write Stebby ticket number in comments.
Refunds or changes are done only if customers cancels the booking at least 48 h before the course. If the cancellation of the booking is done less that 48 before the course, there will be no refund.
Find us in Google maps: https://goo.gl/maps/XG9bbuNwY1cSubCL7
More info: info@surftown.ee or +37256691870